2012 NFL Uniforms: [Photos]
The Inquisitr - April 3, 2012
NFL 2012
Dallas Cowboys
Brooklyn, New York – After what seemed like months of waiting, the NFL and Nike has finally unveiled the next generation of uniforms for all 32 NFL teams.
The league and Nike – who takes over the NFL's uniform and gear design from
Reebok
– showed off the new look in grand style Tuesday with a gridiron-styled fashion show at a Brooklyn film studio.
Commissioner Roger Goodell
was on hand, along with
Super Bowl Champion New York Giants
receiver
Victor Cruz.
"I love them," Goodell said at the unveiling.
Cruz chimed in that the new unis are sleeker and more form-fitting which should help him elude tacklers better.
The unis "conform and fit your body," said Cruz.
"They're tight. You can't get pulled or snagged on. That's the biggest thing for me: making sure that I'm sleek and I'm fast and I can't be grabbed or held."
While the majority of the teams' new uniforms look nearly identical to last year's models, the
Seattle Seahawks
got a sweet upgrade with darker-colored blue jerseys, a more aggressive-looking hawk on the helmet and neon-green trim around the players' numbers.
According to
USA Today
, the new Nike NFL jerseys go on sale the weekend of the 2012 NFL Draft from
April 26-28.
Check out more photos from Nike's unveiling of the new NFL uniforms below: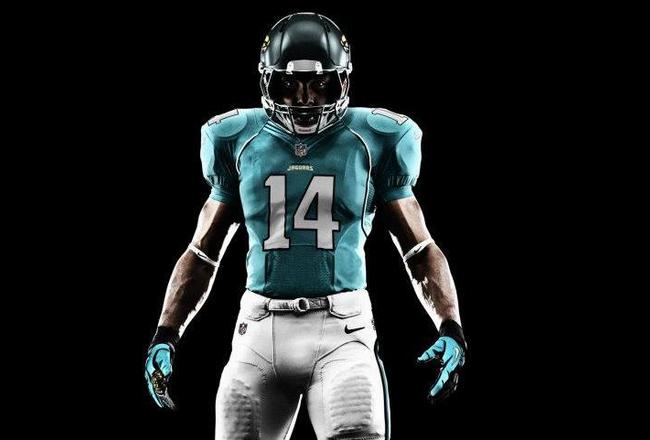 (God, these new uniforms are so strange and different, it will be like watching space aliens vs. wizards out there now...--jef)